Though every practice is unique, there are common challenges that
are shared by all in the dental field. PRN has developed a series of
lectures, seminars and participative workshops that address these
major issues and are available for your dental practice, study club,
association or convention.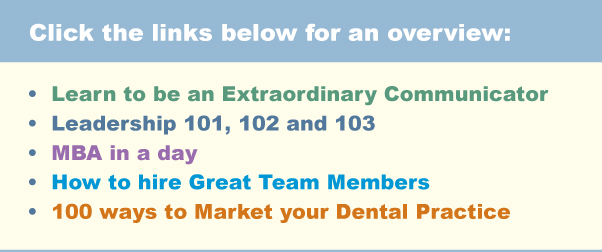 Seminar:


Learn to be an Extraordinary Communica

tor

Let's face it; sticky situations happen! It's how you handle them which
counts. This 4 or 7 hour presentation addresses those difficult situa-
tions commonly encountered when treating patients and working with
your office staff.



In this lively and participative workshop, you'll learn how to:





• meet other's needs without ignoring your own


•

confront others without those embarrassing or embattling


•

blunders


•

avoid the 12 'absolute do nots' that make someone who is


•

already upset even more upset


•

use techniques that lower defensiveness, calm irritated


•

patients and co-workers to resolve problems quickly


Besides enhancing your ability to communicate with those around
you, implementing this material greatly reduces stress, making day
to day interactions more satisfying and the workplace more efficient.




Seminar:


Leadership 101, 102 and 103



Everyone can be a leader. Like everything else, some find it easier to
lead than others. Which is why this 4 or 7 hour seminar teaches dis-
tinct leadership styles and how to choose the best one for the person/
people involved and the situation being addressed.

Understand how to maximize the effectiveness of staff meetings.
Learn to stimulate team members to perform to their potential.
Become more effective at business planning, an essential key to
practice growth.

This enlightening session also addresses key indicators for practice
monitoring and how to apply them to predict clear, measurable and
attainable goals. In dentistry, half of your salary is derived from your
skills as a dentist, the other half, from your ability to lead your staff.
Once you've completed this seminar, perhaps it will be time to ask
yourself for a raise.





Seminar:


MBA in a day



Did you study dentistry because general business was of less interest
to you then during dental school you learned of colleagues pursuing
their MBA?

This engaging and entertaining program presents the fundamentals of:


• Business Trackers: What to track /monitor and how to
• interpret the data you have collected.


•

Overhead Management Team as Board of Directors:


•

Delegating management responsibilities and developing


•

team leaders.





Seminar:


How to hire Great Team Members



Who hired that staff member? That's a question every dentist has
asked themselves at one time or another. They seemed like a perfect
fit during the interview but showed up for work making you wonder if
you've ever met before. You can avoid the Jekyll and Hyde hire. The
key is to learn thorough and efficient interviewing techniques.



This 4 hour presentation for dentists or office managers addresses the how to's of:







•

attracting qualified applicants


•

asking the right questions


•

digging to find the r-e-a-l answers


•

screening out potential problems


•

selecting an excellent candidate

Participants leave with a step-by-step approach guaranteed to make
your next hiring opportunity a pleasant one.





Seminar:


100 ways to Market your Dental Practice



The Dental Team's Internal and External Marketing Treatment Plan

In a perfect world providing quality dental services would be enough to
insure practice success. The reality is that you're competing for discre-
tionary dollars ranging from... vacations to cosmetic dentistry. That's
why it's incumbent for each member of the dental practice to embrace,
with excitement and enthusiasm, the challenge of voicing, "We are here
and we are worth it!"

This lively and challenging workshop, teaching measures
to promote your practice both internally and externally,
includes:



• Gaining recognition within your community


•

Stimulating your current patients to actively refer others


•

Social Media: What's hot and what's not


•

Creating a marketing action plan to reach your practice goals


•

Websites, Widgets and 100 Ways to Popularize Your Practice

Whether a new practice or established practice, this presentation's painless
injection of new energy and ideas is a must-have for the dental team determined
to assure their positive growth into the future.


Back to top